Competition: Win A Copy Of 'Small ECO Houses - Living Green in Style'
August 3, 2011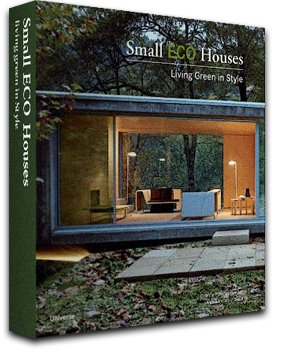 We're giving away a copy of Cristina Benitez and Alex Vidiella's book: 'Small ECO Houses - Living Green in Style' to one lucky reader, at random.
The book profiles numerous contemporary projects from around the world that focus on environmentally friendly and efficient homes.
To enter this competition
Email us:
your name
age
gender
occupation
delivery address
telephone number
to competitions@architecturestyle.net with "Small ECO Houses - Living Green in Style" in the subject line. We won't pass your information on to anyone else; we just want to know a little about our readers. Read our Privacy Policy.
If you'd like to stay up to date for more competitions, and get a double entry be sure to follow us on facebook, get our rss feed or follow us on twitter.
The competition is closed for entries on September 7th, 2011.
A little about the authors of the book:
Cristina Paredes Benítez has degrees in fine arts and in information science. She is an editor specializing in illustrated books and she has collaborated with several publishers and photo agencies.
Àlex Sánchez Vidiella earned a degree in art history, specializing in contemporary art, baroque art, and entertainment art (cinema), from the University of Barcelona. He has worked as an art history teacher and as an editor and graphic editor for various publishing houses specializing in art, architecture, geographic atlases, and scientific encyclopedia. He is currently a writer and editor, working mostly on books on architecture.